Gravity varies wherever you go in the world. Kern scales are accurate enough to measure these tiny fluctuations.

The world's first mass-participation science experiment. Kern shipped the Gnome Kit from scientist to scientist. Participants simply weighed the gnome then sent him on.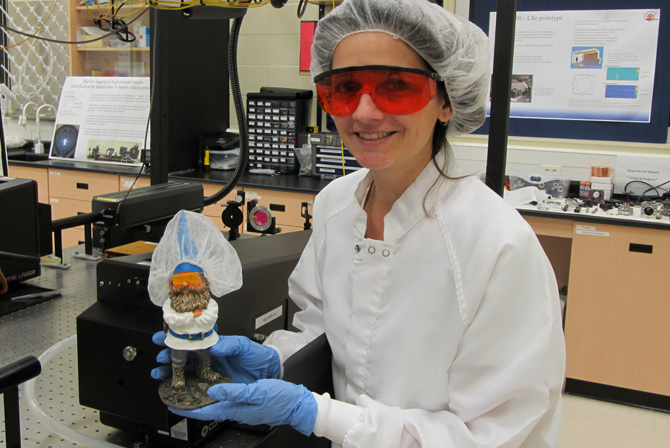 The Kern Gnome visited the South Pole, the Large Hadron Collider at CERN, the world's deepest lab SNOLAB in Canada, Peru, Japan, Germany, USA, India and other destinations.
He even took time to visit the equator in Kenya, experience weightlessness on Zero G's parabolic flight, and ponder gravity under Newton's apple tree.

The Kern Gnome presented a TED talk (along with the CEO of Kern and Sohn) and appeared on many topical TV shows, in newspapers and magazines around the world.

After his fascinating travels around the world, Kern Gnome now resides on display in a German science museum. His legacy lives on in the form of a science book to teach children about gravity, based on his travel blog. Not a bad gap year!
Role: Deputy Creative Director, Art Director, Social Media Creative
Agency:
OgilvyOne
CorpComm Awards 2015
Campaign of the Decade
European Excellence Awards 2013
Science & Education
Holmes Report 2013
1st Place - Global Creative Index
BIMA 2013
Grand Prix
BIMA 2013
Winner - Business To Business
BIMA 2013
Winner - Community Building
BIMA 2013
Shortlist - Educations & Outreach
BIMA 2013
Shortlist - Integrated
BIMA 2013
Shortlist - Social Media
One Show Interactive Awards 2013
Merit - Social Media
The Digitals 2013
Gold - B2B
CIPR Excellence 2013
Winner - Integrated
CIPR Excellence 2013
Winner - Global Public Relations
CIPR Excellence 2013
Winner - Corporate & Business Comms
CIPR Excellence 2013
Certificate - Best Technology Campaign
CIPR Excellence 2013
Certificate - Best Use of Media Relations
SABRE 2013
Gold - Business-To-Business Marketing
SABRE 2013
Silver - Media Placement (Broadcast)
SABRE 2013
Silver - Blog
SABRE 2013
Silver - Press Kit
SABRE 2013
Silver - Website
D&AD Awards 2013
Nominated - Direct Mail
D&AD Awards 2013
In Book - Direct Integrated Campaign
CLIO Awards 2013
Gold - Engagement - Experiential
CLIO Awards 2013
Bronze - Direct - Mixed Campaign
Webby Awards 2013
People's Voice Winner
Creative Circle 2013
Gold - Best Digital-led Campaign
Creative Circle 2013
Silver - Best Low Budget Idea, under £30k
Golden Hedgehog 2013
Winner - Integrated Communications
Golden Hedgehog 2013
Shortlist - B2B
Golden Hedgehog 2013
Shortlist - Best Use of Research
Golden Hedgehog 2013
Shortlist - Low Budget
Golden Hedgehog 2013
Shortlist - Campaign of the Year
Marketing Society 2013
Shortlist - Marketing on a Shoestring
Big Won 2012
1st Most Awarded Direct Campaign Worldwide
Big Won 2012
2nd Most Awarded Campaign All Channels UK
Caples Awards 2012
Silver - Integrated Campaign
DMA Awards 2012
Grand Prix
DMA Awards 2012
Gold - Business To Business
DMA Awards 2012
Gold - Website
DMA Awards 2012
Gold - Search
DMA Awards 2012
Gold - Social Media Brand Awareness
DMA Awards 2012
Gold - Brand Building Campaign
DMA Awards 2012
Gold - Integrated Campaign
DMA Awards 2012
Gold - Small Budget Campaign
DMA Awards 2012
Gold - Creative Solution Or Innovation
DMA Awards 2012
Gold - Use Of Direct Mail
DMA Awards 2012
Silver - Media Strategy
Eurobest 2012
Gold Direct - B2B
Eurobest 2012
Bronze Direct - Integrated Campaign
CorpComms Awards 2012
International Campaign Of The Year
PRCA Awards 2012
Campaign Of The Year
PRCA Awards 2012
Winner - Technology Award
PRCA Awards 2012
Winner - Business To Business
Campaign BIG 2012
Direct Silver - IT & Technology
Campaign BIG 2012
Interactive Silver - IT & Technology
Campaign BIG 2012
Integrated Highly Commended
PR Week Awards 2012
Global PR Winner
PR Week Awards 2012
Technology Winner
PR Week Awards 2012
Marketing Comms: Business Winner
PR Week Awards 2012
Integrated Campaign Shortlist
International Echo Awards 2012
Silver
WPPed Cream 2012
Gold Direct
WPPed Cream 2012
Silver Integrated
Cannes Lions 2012
Silver Direct Lion
Cannes Lions 2012
Bronze Cyber Lion
Cannes Lions 2012
Cyber Shortlist
PRCA 2012
Technology Award Shortlist
PRCA 2012
International Campaign Shortlist
PRCA 2012
B2B Shortlist
Best Of Ogilvy
In Book
"This was the first award I judged at the Grand Prix and set an unbelievably high standard from the off. To turn what is a dry subject matter into something as interesting and engaging as it has is nothing short of genius. The key element for me is the gnome, no other product would have worked, nothing else goes on a round the world trip quite like a gnome! Combined with results that astounded me on a comparatively small budget, this must be as close to perfect as a campaign gets."

Wayne Hemingway
Chair of Judges - DMA Awards 2012

Team Gnome

Creative Director: Graham Jenks
Creative Director: James Nester
Client: Albert Sauter